Lake Studies and Management Plan Reports
Lake and Pond - State Agency Contacts
10 Tips for Improved Lakeshore Stewardship from US EPA
Upcoming Events
Save The Lakes tries to provide educational workshops and opportunities for lake association members to get together regularly to exchange information and ideas to benefit our lakes.
Bass Fishing Team Tournament Sponsored by the Pawtuxet River Authority
Saturday, May 10, 7 am; Colwell's Campground, Johnson's Pond, Coventry, click here to learn more or for registration info.
Bacteria Source Tracking Workshop - Sewage Sniffing Dogs (REALLY)
This FREE workshop is designed for municipalities, watershed associations, and others interested citizens to learn more about the tools available to help identify sources of bacterai to waterbodies, and the the actions that can be taken to address these sources.
Thursday, May 22nd, 2014; Quinta Gemeline Community Center, 101 Asylum Rd., Colt State Park, Bristol, RI To register - contact Emily DeFranco, emilyd@fbenvironmental.com; 603-343-631. To learn more about this workshop click here.

Bay and Watershed Restoration Grants -

All proposals due Friday, May 30th, 2014


RI Department of Environmental Management has up to $200,000 in funds to support a limited number of projects to controil aquatic invasive species in freshwater lakes and ponds. A minimum of a 50% match is required. Please see the request for proposals (RFP) for full details. Click here for the Request For Proposals.


New England Lakes Conference

Each year lake association members, lake residents, scientists, lake managers and more from throughout New England gather to share information about lakes and watersheds in order to preserve, restore and protect these unique resources for future generations. This year's conference theme, "Green Ideas for Blue Lakes" will focus on ideas and tools that help us work together for our lakes. Registration now open for this June 13 and 14, 2014 conference being held at the University of Connecticut, Storrs, Ct. 1 and 2 day registrations availble Click here for the Registration information.



Inland Fishes of Rhode Island - describes more than 70 fishes found in RI's fresh and brackish waters. (Click here for ordering information).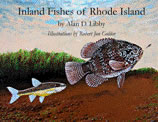 Inland Fishes of RI, publication of the Division of Fish and Wildlife (RIDEM)