Lake Studies and Management Plan Reports
Lake and Pond - State Agency Contacts
10 Tips for Improved Lakeshore Stewardship from US EPA
Upcoming Events
Save The Lakes tries to provide educational workshops and opportunities for lake association members to get together regularly to exchange information and ideas to benefit our lakes.
What's Up with My Lake??

December 10, 2013
7 - 8:30 pm
Coventry Senior Center, 50 Wood Street, Coventry, RI 02816
Wondering how to deal with weeds in your lake??
Have another lake problem and feel like you are all alone??

Don't "reinvent the wheel"; join lake association members from around Rhode Island as they discuss how their group has dealt with various issues. Lake groups will share their successes, their failures and suggestions on how to handle problems facing many of our lake associations.

Hosted by Save The Lakes (STL), this lake association forum will feature brief presentations from local "experts", followed by small group discussions allowing in depth exploration of topics of particular interest to you. Subsequent group discussion reports mean you won't miss a thing!!

By pooling our local knowledge and talent, STL hopes this forum will answer the questions you've had about your lake! So join us for some fun, education and refreshments as we learn more about our lakes from each other.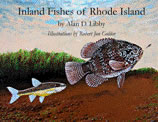 Inland Fishes of RI, publication of the Division of Fish and Wildlife (RIDEM)