Invasive Species (aka "weeds" and more)
Lake Studies and Management Plan Reports
Lake and Pond - State Agency Contacts
10 Tips for Improved Lakeshore Stewardship from US EPA
Upcoming Events
Save The Lakes tries to provide educational workshops and opportunities for lake association members to get together regularly to exchange information and ideas to benefit our lakes.
URI Watershed Watch seeks volunteers to monitor water quality in RI's waters statewide (fresh, brackish and salt). New volunteer training begins in spring - click here for more information.


Annual STL meeting with RI Department of Environmental Management, April 30, 2015, Save the Bay headquarters, Providence RI (100 Save the Bay Dr, Providence, RI 02905)

More information soon.



New England Lakes Conference

Each year lake association members, lake residents, scientists, lake managers and more from throughout New England gather to share information about lakes and watersheds in order to preserve, restore and protect these unique resources for future generations. This year's conference will be held in Burlington, Vermont the weeknd of May 29 & 30, 2015. Click here for more information registration information will be available soon.



Inland Fishes of Rhode Island - describes more than 70 fishes found in RI's fresh and brackish waters. (Click here for ordering information).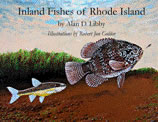 Inland Fishes of RI, publication of the Division of Fish and Wildlife (RIDEM)