Lake Studies and Management Plan Reports
Lake and Pond - State Agency Contacts
10 Tips for Improved Lakeshore Stewardship from US EPA
Upcoming Events
Save The Lakes tries to provide educational workshops and opportunities for lake association members to get together regularly to exchange information and ideas to benefit our lakes.
Trashed - movie presentation
Hosted by Bristol Recylces, this movie presention focuses on the impact of the American waste stream and what we can do about it. . Sunday, April 27, 5 pm; Mount Hope High School Auditorium, click here for a printable flyer to post and share.


New England Lakes Conference

Each year lake association members, lake residents, scientists, lake managers and more from throughout New England gather to share information about lakes and watersheds in order to preserve, restore and protect these unique resources for future generations. This year's conference theme, "Green Ideas for Blue Lakes" will focus on ideas and tools that help us work together for our lakes. Please consider submitting a presention or poster highlighting work that your lake association has done to help keep your lake blue. Abstract deadline March 29, 2014. Click here for the Call for Papers.



RI Freshwater Forum
April 9, 2014
7 - 9 pm
Room South 218, New England Institute of Technology, 1 New England Tech Blvd,
East Greenwich, RI 02818
Director Janet Coit, RI Department of Environmental Management, will discuss strategic priorites and current lake management issues in RI, followed by a question and answer period. This is a great opportunity to learn more about what the state is doing to protect and restore our lakes and rivers, as well as what each of us can do in our own backyards!
Local lake associations and other organizations are invited to bring exhibits and materials to share. This is a great opportunity to network with community "experts.

Hosted by Save The Lakes (STL), light refreshments will be served. The forum and plenty of free parking are free!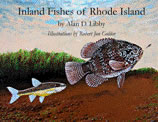 Inland Fishes of RI, publication of the Division of Fish and Wildlife (RIDEM)