Invasive Species (aka "weeds" and more)
Harmful Algal Blooms HABs) (URI WW site)
Lake Studies and Management Plan Reports
Lake and Pond - State Agency Contacts (updated)
10 Tips for Improved Lakeshore Stewardship from US EPA
Upcoming Events
Save The Lakes tries to provide educational workshops and opportunities for lake association members to get together regularly to exchange information and ideas to benefit our lakes.
Celebrating New England's Freshwater - Hosted by BassPro Shop

Saturday, March 25, 2017: 10 am - 4 pm
BassPro Shop - Patriots Place
One BassPro Drive, Foxborough, MA 02035
Join us in a celebration of New England's freshwater resources. Hosted by BassPro Shop at Patriot Place (home of SuperBowl champs New England Patriots!) this fun event will feature a variety of displays and activities designed to engage families in discussions about our lakes and ponds.
C

lick here

to learn more

.



So you lake has issues. Now what? Annual Lakes Forum hosted by STL and the RI Department of Environmental Management (RIDEM)

Wednesday, April 26, 2017: 6:30-8:30 pm
Johnston Senior Center
1291 Hartford Ave, Johnston, RI 02919
Join us and lake association members from around Rhode Island as we learn how lakes function and discuss how we all can work to protect them. Guest speaker, Project Scientist and Group Manager at ESS Group, Inc., Matt Ladewig will answer the question So your lake has issues. Now what? Staff from the Rhode Island Department of Environmental Management's Office of Water Resources and Fish and Wildlife Division will be there to update us, answer your questions, and help us address lake issues..
C

lick here

to learn more and for a sharable notice (please do share it with you neighbors and friends!)



Become a Citizen Scientist - Protect Your Lake - URI Watershed Watch New Volunteer Training

Sunday, April 2, repeated Wednesday April 5, 2017 (attend which best fits your schedule)
URI Kingston Campus - Coastal Institutue
1 Greenhouse Rd, Kingston, RI 02881

URI Watershed Watch (URIWW) is a volunteer water quality monitoring program that works with local communities to assess water quality, identify sources of pollution in water and provide information about water leading to more effective management of critical water resources. New volunteer training includes classroom and field sessions to help prepare you to collect credible information that can help you and your community take care of your lake. Check out the program website to learn more and to register for a training session.

New England Chapter of the North American Lake Management Society Regional Lakes Conference

Friday and Saturday, June 9 and 10, 2017 (can attend one day or both)
URI Kingston Campus - CBLSs
120 Flagg Rd, Kingston, RI 02881

Each year lake association members, lake residents, scientists, lake managers and more from around the region gather to share information about lakes and watersheds in order to preserve, restore and protect these unique resources for future generations. This year's conference will be co-hosted by the URI Watershed Watch program in Rhode Island. Check back for more details SOON.



Inland Fishes of Rhode Island - describes more than 70 fishes found in RI's fresh and brackish waters. (Click here for ordering information).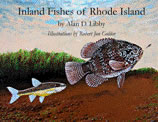 Inland Fishes of RI, publication of the Division of Fish and Wildlife (RIDEM)