Invasive Species (aka "weeds" and more)
Harmful Algal Blooms HABs) (URI WW site)
Lake Studies and Management Plan Reports
Lake and Pond - State Agency Contacts (updated)
10 Tips for Improved Lakeshore Stewardship from US EPA
Upcoming Events
Save The Lakes tries to provide educational workshops and opportunities for lake association members to get together regularly to exchange information and ideas to benefit our lakes.
UPP Arts Film: Silvered: Tracing Gorham at Mahapaug Pond, A multimedia experience by Erik Carlson and Erik Gould

Friday, September 27, 2016: 7 pm
JT Owens Boat Launch
350 Niantic Avenue, Providence, RI 02910
Don't miss UPP Arts' final film to be projected on a floating film screen!

This Friday

Erik Carlson and Erik Gould will present a multimedia experience that explores the impact and significance of the Gorham Silver Manufacturing Co. on Mashapaug Pond from its beginnings in 1890 through toxic clean-up in the past several years. Before the feature presentation, join us for Voices of the Small Points, a short documentary film about Indigenous Culture and Mashapaug Pond by Alvarez High School students.
C

lick here

to learn more

.

New England Chapter of the North American Lake Management Society Regional Lakes Conference

Each year lake association members, lake residents, scientists, lake managers and more from around the region gather to share information about lakes and watersheds in order to preserve, restore and protect these unique resources for future generations. This coming year's conference will be co-hosted by the URI Watershed Watch program and held in Rhode Island. Check back for more details for this 2017 conference.

Inland Fishes of Rhode Island - describes more than 70 fishes found in RI's fresh and brackish waters. (Click here for ordering information).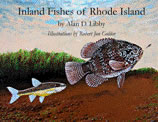 Inland Fishes of RI, publication of the Division of Fish and Wildlife (RIDEM)