Invasive Species (aka "weeds" and more)
Harmful Algal Blooms HABs) (URIWW site)
Lake Studies and Management Plan Reports
Lake and Pond - State Agency Contacts (updated for 2018!)
10 Tips for Improved Lakeshore Stewardship from US EPA
Upcoming Events
Save The Lakes tries to provide educational workshops and opportunities for lake association members to get together regularly to exchange information and ideas to benefit our lakes.
Save The Lakes Lake and Watershed Roundtable - June 27, 2018 * 6:30-8:30 PM
Johnston Senior Center, 1291 Hartford Avenue * Johnston, RI * 02919

Love your lake but not always sure how to care for it? Wondering who you should talk to if you have a lake or watershed issue?
Join us and lake association and watershed group members from around Rhode Island as Rhode Island Department of Environmental Management's Office of Water Resources (RI DEM) staff and others update us about their activities, answer your questions, and address our issues.
Hosted by Save The Lakes (STL), this lake association roundtable will provide you with an opportunity to learn more about how we all can protect and restore our favorite waterbodies. This also a great chance for you to share YOUR great ideas too!
By sharing our local knowledge and talent, STL hopes this forum will answer the questions you've had about your lake! So join us for some fun, education and refreshments as we learn more about our lakes and how we can work together to keep them gleaming.

A share this flier with your lake association, friends and neighbors and invite them to come on down to ask their questions!

Inland Fishes of Rhode Island - describes more than 70 fishes found in RI's fresh and brackish waters. (Click here for ordering information).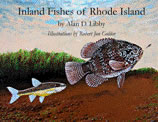 Inland Fishes of RI, publication of the Division of Fish and Wildlife (RIDEM)