Lake Studies and Management Plan Reports
Lake and Pond - State Agency Contacts
10 Tips for Improved Lakeshore Stewardship from US EPA
Upcoming Events
Save The Lakes tries to provide educational workshops and opportunities for lake association members to get together regularly to exchange information and ideas to benefit our lakes.
Save the Lakes invites you to Meet the RI DEM Director Tuesday, February 5, 2013; 7 - 9 pm.
Elks Lodge, 326 Farnum Pike (Rte 7), Smithfield, RI
Hear about the Department of Environmental Management's priorities in 2013, have your questions answered, meet others with the same interest and concern for lakes, and learn more about Save The Lakes.

Urban Ponds Precession - Introductory Workshop, Saturday, February 2, 2013; 10 am - 1 pm
77 Reservoir Ave. (Renaissance Church), Providence, RI
All are invited to come get involved and learn about stormwater runoff and UPP's plans to address it through interactive presentations and hands-on art-making activities. This event is free and open to the public--we hope to see you there!

Land and Water Summit - Saturday, March 9, 2013 10th anniversary day long conference. Learn more about this outstanding educational event which provides an opportunity to learn more about the jewels of the landscape - our fresh water lakes and ponds, and the rivers and streams that link them, and us to the bay. Mark your calendar now - and share this with your friends and family (click here for more info).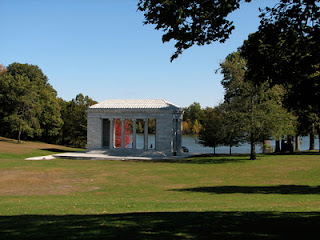 Temple of Music, RWP, Providence